Harvest Baptist Church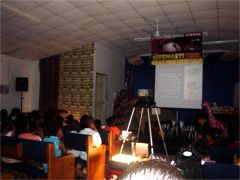 Our first VBS of the summer of 2005 was at Harvest Baptist Church in Curepe, Trinidad. This is the church that we have done VBS at for the past 5 years. This year we had a group from Victory Baptist Church in Jemison, AL come down to help us. My good friend Thomas Lyon is the youth pastor at that church, and he brought his young people down to aid us, they were a real blessing! There were many obstacles to overcome, one day Marie and I were delayed because some flooding that was associated with a hurricane that had passed near the island. However, Thomas's group kept the children occupied until we could get around the flooding.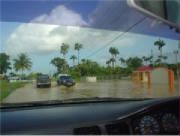 The week of VBS was well attended and by the end of the week we saw 22 children trust Christ as their Savior! Visit the photo album below for more pictures of the VBS at Harvest.
Arouca Baptist Church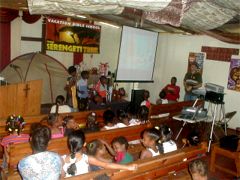 Our 2nd VBS of the summer was very special because this was the first VBS at Arouca Baptist Church. This is the church that we started in October of last year. A group from Pastor Phil Sheffield's church, Lighthouse Baptist Church in Port Charlotte, FL came to assist us in this VBS. The group of five were a tremendous blessing to us. By the end of the week we had seen 11 children come to know the Lord as Savior.
Please visit the photo album below to see more pictures of this special week of ministry.