We previously served with Baptist Missions to Forgotten Peoples (BMFP) but in 2011 God began to show us that He needed to move us in another direction. After spending much time in prayer and talking it over with our pastor we came to the conclusion that the needs of the ministry in the West Indies would be best served by starting a new nonprofit organization entitled Ends of the Earth Missions. We chose this name because in Bible times people viewed the islands, as the furthest reaches of the known world. They were commonly referred to as the ends of the earth.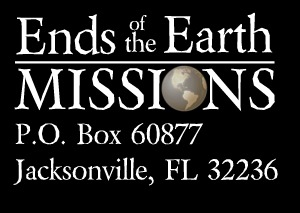 Ends of the Earth Missions Inc is a 501(c)(3) Non-profit Organization. All donations are tax deductible. Checks should be made out to Ends of the Earth Missions.
General support for the Westbrook Family can be designated by simply indicating "Westbrook Family" in the memo section of the check. Other designations (vehicle fund, land, etc.) can be made the same way or by including some type of correspondence with the check.
Donations can also be made online through PayPal: